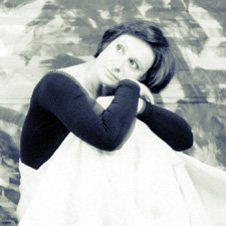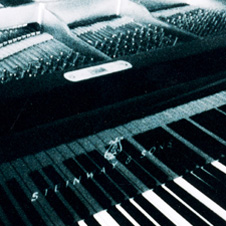 Being very sensitive to painting and colours her play reflects this predilection with an extremely variant sound and relief. First prize of the Debussy international competition she explores the works of all French composers of the same period, exploiting in the best way the possibilities offered by the modern pianos to land into a new expression suitable to their spirit.

A profound work on the French composers of the XVII and XVII century (Couperin - Rameau) conclude this research and for certain that their writing has been marked by (Ravel - Dukas). Thus Paul Dukas became familiar to the point of recording his complete piano work. The study of playing the piano full of colours is the base used by a number of composers and in particular the works for clavier of J.S.Bach where his counter point asks for a maximum of contrast.

In an absolute engagement to interpreting all these composers whose she serves with a permanent care, respect to the text and the style.Chantal Stigliani carries his public to her musical world with a very lively talk. Her extremely eclectic repertory covers several periods from classic to our days. She has created in France the work of Constant Lambert, Piston, and Enri Loachvili.

She is regularly invited to perform as a soloist or with orchestras in Europe, in United States, Canada.

Her preference in the chamber music dialogue is presented in different forms: with instrumentalists, or to accompany the chant (vocal quartet) or with actors (voice & piano). She has given a number of spectacles of poesy- music: Rilke - Bach with Laurent Terzieff, Malarme - Debussy with Tassos Bandis in Greece (Melina Merkouri Foundation), and Milosz - Mozart with Pascal de Boysson. She produced with the company "La Hulotte" the melodrama of Tennyson "Enoch Arden" music of R. Strauss with Jacque Marie Legendre. She has presented the novels of Maupassant with Anne Lefol in France and Harriett Anderson in Sweden.